About Us
The professionals at Busch's Signs & Designs, Inc. can help capture your corporate image with full color logos, graphics, high-density urethane foam signs, directional signage, wood, window lettering, magnetic signs, metal, vehicle graphics and more!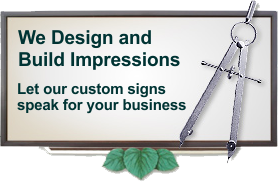 Busch's Signs & Designs is a family-owned business with over 36 years of experience in the design, manufacturing, installation, and maintenance of signs of all types. Owner Don Busch guarantees you will get the right product at the right price, because his reputation rides on every project.
Busch's Signs & Designs works hard to meet your graphic guidelines, your deadlines, and your bottom line. We can take your ideas and turn them into something truly dynamic...or our talented staff can design something eye-catching for you. In these days of increased competition, making a good first impression is so very important. Make sure your sign says a lot about you in both its information and its appearance. Busch's Signs & Designs delivers quality, versatility, service and value with everything we produce. Our Custom Signs are crafted from HDU (High-Density Urethane) Sign Foam and/or clear woods. Busch's Signs & Designs places a strong emphasis on graphic presentation with the correct application and use of color. That's why we finish our signs with the finest paints and stains available. We invite you to contact us to discuss the specifics of your next project at (608) 848-1900.
Let Busch's Signs & Designs, Inc. help you explode on the corporate scene with a truly unique look...sure to turn heads and get you noticed! We're your full service, state-of-the-art, on-time sign center ready to work with you to get your message across.